THE FAMILY GROWS
We decided to take the terraced house in Meynell Road, off Humberstone Road, as it was less rent than the council house we were offered in Coleman Road, and because it was much nearer to my Husband's work place. It was lovely having more room to move about and to have a private yard. We soon settled in.
After only a few weeks we had some trouble regarding our little son. He was about four years old now. I had been told by the doctor at the Babies' Welfare Clinic I attended that Bob's leg was not quite straight. One knee was turning inward. Oh dear, I was troubled, and Fred too. I was told to take him to the specialist at the Infirmary on a certain day. I took Bob along thinking he might have massage or something to straighten the knee in that way, but I came home breaking my heart because the specialist had ordered him to be measured for callipers to be fitted on both legs. This seemed terrible. The reason he was to have 'irons' on the leg that was straight was so the he didn't strain the good leg. It was to support it.
Fred was asked to go to the hospital to talk this over and to arrange payment of the callipers. He was pleased to have this chance to talk to the specialist to be reassured that his son needed them. We didn't know how long Bob would have to wear them.
We had to wait a week or so before the 'irons' were ready and the day we were notified they were, and that Bob was to be taken to be fitted, it was a Bank Holiday Monday. It was glorious weather and we had been invited to go to stay at my Father's and Stepmother's home at Keyham for the weekend. Fred took Bob in to the hospital from Keyham while I stayed with Dad and Louie. I was between seven and eight months pregnant. What a tower of strength my Hubby was for me at that time - as he always is in times of great need like this.
My stepmother and stepsister, Mary, went with me to meet them as far as Scraptoft village, where Bob and his Dad would be getting off the bus, and there was no other way than to walk to Keyham from there. There were no buses at that time from there and we didn't possess a car then. Someone lent us a child's pushchair so that my Hubby wouldn't have to carry Bob home the two to three miles.
When I saw Bob wearing the callipers on both legs I kept crying. They weighed 6-lbs. and Bob was only four years old. There was a straight steel bar which fitted into the heel of his shoe and was fixed to a steel band that went round his waist. This band was covered and padded with washleather. Then in several places from foot to waist there were leather bands which had to be strapped round his legs. There was a very wide strip of leather, backed with soft washleather, which came at the knee. This was the vital spot which needed straightening and the straps here had to be pulled gently until the knee came straight to the long steel 'stem', which went to waist from the heel of shoe. I never did do this task. Fred always fixed the 'irons' before he went to work in the morning and took them off before he went to bed at night.
I must mention that on the day Bob had these callipers fitted my Husband sat out in the sunshine (we were at Keyham) on the grass, nursing Bob and talking to him, saying how he must wear these 'irons' to straighten his leg, saying "You don't want to grow up with your leg not straight, do you". As I said before, my Husband is such a tower of strength to me, even if he was breaking his heart over his little son having to bear with this trouble, he didn't keep breaking down in tears as I did.
Well now, the time was getting nearer to my second baby being born. We were in the bigger house and Bob was quite used to wearing his 'armour'. He had to walk stiff-legged but he could even run a little when he was playing and never did he cry or grumble at having this thing to bear.
Each month my Husband took Bob to the hospital for the specialist to examine the limb. He had to have time off from work to take him. As I was expecting a baby it wasn't wise for me to take him because of lifting him up on to the bus, etc. By now I had arranged for a motherly midwife who lived only a few doors away from us. I had heard how she had 'brought many babies into the world'. In those days a midwife didn't have to be qualified. I decided to have the baby at home and this midwife would be able to get a dinner for my Husband and me, also take care of Bob occasionally. Several friends and his Grandma and Auntie helped out by fetching Bob for the day.
Well, I was blessed by having a little daughter, Marjorie, after much pain and struggle as most mothers know of. My doctor was there to see all was well. How pleased I was to be back to normal again. My one longing was to see Bob running around without the callipers.
On one occasion when my Husband took Bob for a check-up he was told that Bob could have the callipers taken off for one hour before bedtime. This was very heartening to us. We knew that gradually he would be 'free'.
When we went to buy the pram for the new baby, we bought one with an extra seat near the handles. While Bob still wore the callipers as he sat, his legs would stick out straight. He couldn't use the foot rest.
What great joy and gratitude we both felt when at last we could leave the callipers off. We were very careful not to let Bob play about too long at first and he still had a ride on the pram whenever I went out. Soon Bob would be going to school. He was nearly five years old now and that nasty patch in our married life would gradually fade away. Actually Bob wore the callipers for seven months, which perhaps doesn't seem long now, but then it seemed a very long time to watch him struggling around.
We spent a few happy years in this terraced house. Bob was at school and the baby girl, Marjorie, growing up healthy and strong. It was a regular outing for us all to go to Grandma's, (my Husbands parents' home) on Saturday for tea. We were proud to show the children off and Grandma and Grandad loved to see us all.
We had an annual holiday by the sea. This was such a thrill. We usually rented a holiday bungalow or caravan on the East coast. We hadn't a car then but the train journey was so exciting. We hadn't a lot of money but just managed to save through the year for this one special treat.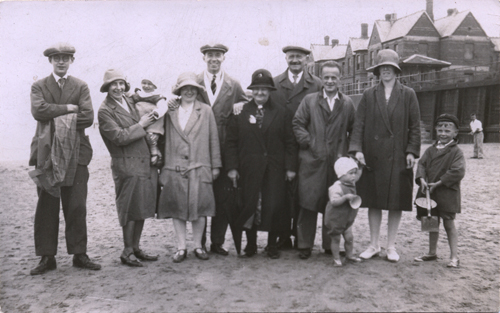 Gertrude with Bob and Marjorie c1929
(click to enlarge)
My Husband went to night school, three nights a week, studying 'the Boot & Shoe Industry' in the hope that someday he might get a better paid job in this line and so enable us to 'put down' on a more modern house with the modern conveniences that we lacked in the house we now rented.
About the time, Aug 1931, when the baby girl was toddling around and Bob moving up the scale in the infants' school my Husband's father had a stroke and died. This was a great shock to us all. He hadn't been ill and was only fifty-eight years old. We still went as usual to see Grandma and it seemed strange that Grandad was not there too.
When Grandad's estate was 'wound up', Grandma was well provided for financially and their four children received £240 each. This was a big amount in those days and was enough to 'put down' at the Building Society on a mortgage for a house such as we would like to own.
One day we spotted such a house for sale, in Edgehill Road, and we went to see it with the idea of buying it. Yes, we liked it and eventually moved from the terraced house into a new area. I remember we sold the baby's pram and bought a push chair for her just before we moved. This tells me now I'm looking back that she was not needing a baby pram and would be about two years old and Bob would be six.
We enjoyed living in this new area. Bob went to Wyvern Avenue School. We made new friends among the neighbours. We had a nice garden and fruit trees and I remember my Husband made a fish pond to delight the children and for his own interest too.
We still went to Grandma's on Saturday and went for a week's holiday by the sea once a year.
Several years went by happily. We were all well and the children both at school now. When Bob was eleven he passed the 'Scholarship'. We were so proud of him and were glad to squeeze enough money from my Husband's earnings to buy the school uniform necessary for him to wear at the High School called 'The City Boys' School'.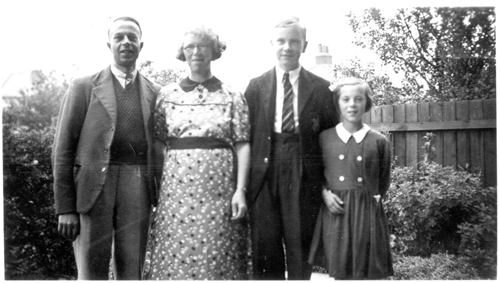 Fred, Gertrude, Bob and Marjorie 84 Edgehill Road c1937
(click to enlarge)
Sometime after this the Second World War began and my Husband joined the Civil Defence Corps. He was above the age for calling up in the army. He was very conscientious in this work, as he is in anything he takes up. The task of fitting the public with gas masks, etc., took much of his time after he'd been to work in the factory all day.
Instead of spending money on the seaside holiday one year, we decided to buy a wooden holiday bungalow we saw advertised. It was a few miles out of Leicester and by then we all had bikes. What fun we had at this bungalow, which was in a field owned by a Mr & Mrs Bent, who lived in the house close to the field. We went each weekend. We had to pay ground rent each week to Mr Bent.
When the war got really started and there was the risk of air raids, we had to fit blackout curtains to the bungalow, as we did at home, and as my Husband was a Group Warden in the Civil Defence he had to stay at home at night in case he was needed during the night, as we were having air raids then. My children, now a few years older, took care of me and themselves while Dad was in town.
Time flies by - and now Bob is called up for Service. He chose the R.A.F. Now fear gripped my heart of the danger he would be in.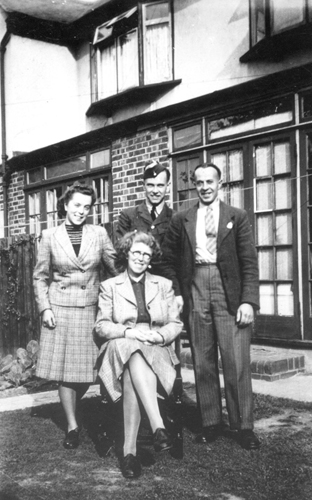 Gertrude and family with Bob in uniform 1943
(click to enlarge)
Marjorie had meanwhile passed the 'Scholarship' and went to the Alderman Newton's Girls' School. Both children proved to be good scholars. It certainly wasn't from me that they inherited this feature! It probably was from their Dad, for I always think that had his parents been able to afford for him to stay at school the extra two years that was necessary and had guided him to know it is good to have a good education, he would really have 'made it', whereas it often hindered him when applying for a better post to have to admit he didn't go to a Secondary School.
Hove 1945
(click to enlarge)
Bob was a Wireless Mechanic in the Air Force. Yes - I was proud of his achievements but wanted him safe at home. Marjorie was, and is still, a great comfort to me.
One Friday night, just as we were all preparing for bed, a telegram was delivered to us, saying that Bob was critically ill in hospital near Blackpool after the plane he was in had crashed near the shore. What a shock it was to hear this. I was awake all night waiting for the dawn when all three of us, and the girl Bob was courting, would go to the hospital to see him. We didn't know just how bad he was and I dreaded the worst. I felt I couldn't pray somehow. I just felt "Who am I to expect God to save my lad when so many lovely lads were being killed each day in this awful war".
Click Here for Robert Bembridge's memories of the crash
However, when we arrived at the hospital we found him not so badly injured as we dreaded. He had crushed ribs and concussion, whereas out of the other lads of the crew five died instantly and another was terribly injured. Yes, I thanked God that I still had my son.
We stayed overnight at a boarding house in Blackpool. Just 'Bed & Breakfast' and went again to see Bob. As it was Sunday we could do this. I remember I didn't say a lot to Bob as we sat by his bed. I let Marjorie and Bob's girl, do the talking. His Dad too, of course, while I was still choking with gratitude that he would soon be well and so I was content to just look at him. We came back with lighter hearts - the neighbours all anxious to know how we found him.
Bob wasn't in hospital very long before he came home on sick leave. Now I could feast my eyes on him and talk about the crash, and know he was O.K.
Bob's girl came to our house a lot and of course was with us on this special day when he came home. I believe it was V.J. Day and there was a street tea-party going on when he arrived. This was happening in many streets to celebrate part of the war was over.
It was specially for the children of course - we mothers squeezing what we could find in the way of eats from our weekly food rations to make a tea-party.
When Bob was well again he went back to duty in the R.A.F. and the war continued for some time yet, but it did come to an end at last. I thanked God many times that I still had my son, but how many broken hearts there were who weren't so fortunate as I!