MARRIAGE AND STARTING A FAMILY
I had been saving up to go to my sister Florrie in Australia, but as time went by I decided to stay and the money in the bank began my savings towards what I hoped would come about, to get married.
My four years courting brought me much happiness. We went to the seaside for a holiday each year. This was such happiness to me. I hadn't ever been to the sea before -only for one day when my own Mum was alive. To be linked as 'one of the family' of the boy I was courting gave me great comfort. There was love and kindness in this home.
By now I was getting a little careless as regards going to Mass regularly. Living with many people whose religions were other than Catholic made me see that there were other beliefs, and at times I wondered whether to make a break and go to the Methodist Church, as my boy had been brought up to do.
As the time grew nearer to our being married I was often very troubled as to what to do. My Catholic relations were aghast at the idea of my leaving The Faith. One said my Mother would turn in her grave if I did. This quandary was really worrying me. Sometimes I thought I would and at another I wouldn't.
I still had great faith in prayer - and still have -and one day as I sat machining at my work a happy thought gave me peace of mind. I thought 'I'll call into church as I pass on my way home and ask God to show me very plainly whether I am doing right or wrong in leaving the Catholic faith'. I wanted to be quite sure before we were married. My boy, Fred, had said he would be married at a Catholic church but would not ever be a Catholic, so I could still keep to my old faith if I wished. I felt a great relief of mind when I had decided to do this and got on with my work until time to go home.
As I had planned, I called in the church in which I had been brought up. It was quite dark apart from the light over the altar that is always lit. I knelt in the back row and didn't say a word. I just thought of my problem. I stayed quite a while. I knew in my heart that I should feel sure of what I should do one way or the other.
At last I thought "Well I must go now or I'll be late for when my boy comes for me" and I came home full of confidence that all would be well if I changed over - and never have I felt that I did the wrong thing by leaving the Catholic Faith.
We planned to be married at Wesley Hall Methodist Church, but my father would not 'give me away' as is the custom. I quite understood how he felt. His religion as a Catholic taught him never to take part in a service other than a Catholic one - so my boy's brother did me the honours, but I was so pleased that my Dad and his wife, Louie, did come to the reception. This made me happy. It was a very happy day for us.
Wesley Hall

(click to enlarge)

Fred and Gertrude's Wedding 22 December 1923

(click to enlarge)
Fred and Gertrude's Wedding

(click to enlarge)

Fred and Gertrude's Wedding Certificate

(click to enlarge)
It was very difficult to get a house to live in, in those days, as it is today. Very few young people could buy a house but it was quite common to rent two rooms with someone who had these rooms to spare and perhaps could do with the cash paid in rent for these.
My husband and I managed to get a friend of mine, with whom I had been to school, to let us two rooms at the front of her six-roomed house, probably in Vaughan Street off Tudor Road. We did not have use of the kitchen. Washing-up, etc. had to be done on my dining table which was a scrub-topped wooden table.
We settled here - both going to work. We were happy to have each other. I loved catering for us both. It was, at last, my own home. We hoped to be able to save to put money down on one of the new houses being built. This dream had a jolt when in the third month of our marriage I found I was to have a baby. We were both very disappointed about this: we knew it would stop me from earning in a month or two, besides the two rooms being inadequate for having a baby around. I'd like to say here that had we had the knowledge the young folk have today on sex matters we would have been able to plan when we would have a family and not be in this predicament.
I kept at my work until I was seven months pregnant and I was very well in health. We booked in at a private maternity home, just across the road from Granby Halls. When the day came for me to go in to have my baby I'll admit I was a bit scared but with a good Hubby behind me I knew I was to be taken good care of.
Yes, I had a son. It was a difficult birth. I was given chloroform and instruments had to be used. My baby was very small. He weighed under 5-lbs. I stayed ten days in bed before coming home. Today mothers with new babies are home in much less time if all has gone well. I was very proud to be a Mum, although it was some months before my son, Robert Alan, was a lovely bouncing baby, but he soon caught up and I was proud to show him off. Very soon after I was home with the baby we went to buy a pram. It was a beauty. We also meant to buy a new shirt for Fred, but the pram took all we could spare and I remember well as Fred pushed the pram for me, he said "You've got a lovely pram but your hubby has to manage another week with his ragged shirt". Yet we were both very happy.
We stayed in the same rooms until our baby could just toddle. Then we heard of better rooms in the Belgrave area, Vann Street, so we made a move. Here I was able to use the kitchen and to use the clothes line to dry my washing. It seemed so very much better for my little boy to be able to move around after me as I worked.
Now we were only in these second rooms a few weeks when we managed to get a little cottage in Humberstone village. The cottage was in a very bad state and needed much cleaning and decorating. It was very old. The walls were of big rounded stones mortared together. We could see where the last tenant had had a grandfather clock because, although the walls had been papered, it hadn't been papered where the clock stood and there were twelve layers of paper on the walls, which was left on to give a base for the new paper. There were oak beams in the ceiling. These were stained dark brown with white plaster in between. It looked lovely when we went in. There was only one room and a big pantry downstairs, with a little spiral wooden staircase to two small bedrooms. It was grand, we thought, to have a key to our own house. It was a real antique little cottage and many folk called in to admire it.
Since we had been married we had had our names down for a council house. We had to wait our turn. We were happy in our little home. It was on the edge of the town of Leicester. We hoped our next step would be to a council house which would be modern and, of course, have a bathroom and toilet inside. Up to now we had no bathroom and the toilet was outside. We managed without in various ways as many folk had to in those days. Nowadays it is thought to be terrible to have no bathroom.
Here we lived and were very happy. Our little son was growing up and running around. It was perfect happiness to me to be a Mum with a loving Husband.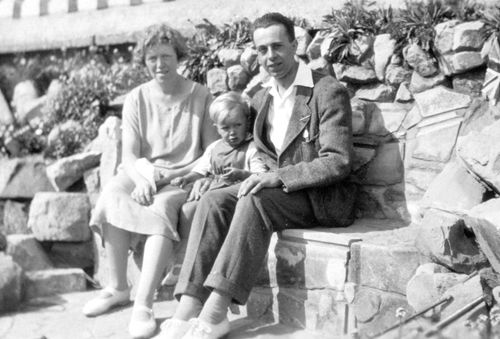 Gertrude, Fred and Bob c1926
(click to enlarge)
We almost always went to see 'Grandma' on a Saturday evening. She was very loving and I was proud to show their grandson off. I loved, too, when all the Bembridge family met together at my Hubby's old home. Grandpa was a driver on the railway.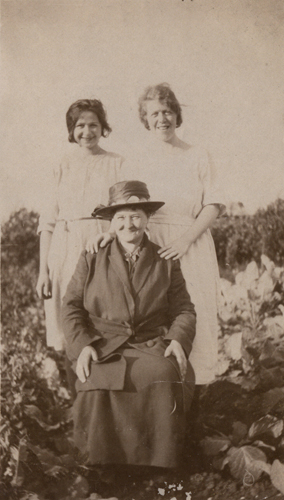 Edith Bembridge, Gertrude and Emma Bembridge c1920's
(click to enlarge)
My Hubby worked at a shoe warehouse for twenty-two years. We always had to watch our spending but, having been brought up with this one thought in mind, we were quite content. We couldn't possibly save enough to 'put down' on a new house as some better-off folk could do. We had a friend who worked with Fred whose relatives owned a few terraced houses near to the factory where he worked. This friend promised us the first one which might become vacant, so we just hoped something might turn up in the way of a bigger house sometime for us. We still had our names down for a council house but we had heard that there were many, many more in the same position.
However, one morning I was happily working in our cosy little home when a gentleman called to say our name had come forward for a council house on Coleman Road. Gee, I was so excited. I could hardly wait for Fred to get home for his dinner. When he did I burst out with the exciting news - and what do you think - the friend who worked with Fred had come to work that morning saying that there was a house coming empty which his relative owned, and it was to be ours! Would you believe it - after about five years we had two houses to choose from. Which should we take, we pondered.
We had to decide fairly quickly as the waiting list for folk needing houses was great. We were delighted to be having the chance to move to a bigger house, especially as we knew now that we were expecting another baby.