MEMORIES OF MY GRANDMA
Having read Grandma's memoires I thought it would be nice to fill in a few more stories of her life.
Having been born in the late 1950's my first recollection of my Grandma's life is visiting them in their new bungalow at Peterborough where the garden was very rough and I can picture myself playing in the mounds of earth that looked a bit like a ploughed field.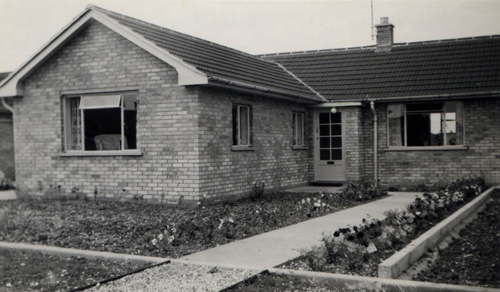 Peterborough bungalow 1961
(click to enlarge)
Work took them to Peterborough after Fred was made redundant in Leicester. I've been told that once again Gertrude was made to go and live somewhere she didn't want to. When Fred got the job in Peterborough they needed a place to live and he somehow got rooms in a house where a lady lived who needed help, today we would call in carers. Fred said Gertrude would do this for her but she actually hated it and it nearly caused her to have a breakdown. Another blow for them at this time was that the storage facility in Leicester where their furniture and belongings were, had a fire and they lost everything including most of the family photos.
After a few years in Peterborough I think Fred was again made redundant so they returned to Leicester and bought a bungalow in Leicester Forest East and this is where I remember them living.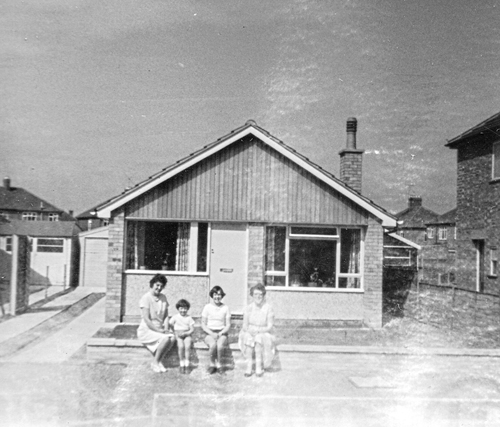 Visiting Grandma at Lowland Avenue c1962
(click to enlarge)
My family had moved away from Leicester when my Dad got a teaching job at Nuneaton Technical College but we visited Lowland Avenue on a regular basis and also went to see my Auntie Marjorie's family at their home in Heacham Drive.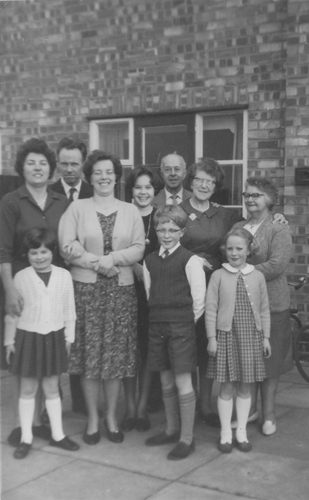 Heacham Drive c1964
(click to enlarge)
I remember our visits to Lowland Avenue always included Grandma showing us her latest clothes. My Mum tells me they came from her sister Mary who lived at Keyham so they weren't new. It didn't seem odd to me then but it would now that she would wear second hand clothes but I suppose she spent most of her life without a lot of money to spend on herself so it must have been a habit hard to break. I also remember my Grandpa knitted his own jumpers which would also have saved money.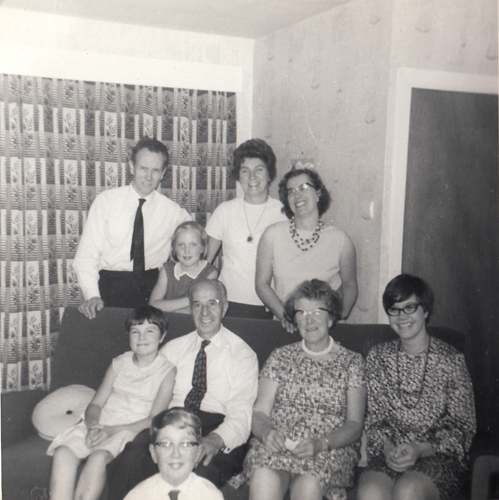 Family visit Lowland Avenue c1967
(click to enlarge)
I can't recall my Grandma having any hobbies but she did go to a women's group, maybe the Women's Institute. She must have spent a lot of her time cooking as we always had homemade chutney's with our tea, I used to love the tomato one. She would also make 'brawn' from pigs head and feet which I didn't like at all.
One thing she loved to do was write to her sister Florrie in Australia. I believe she wrote to her most weeks on a special airmail letter. On one occasion she had Bette, Florrie's granddaughter, come and stay with her which she must have really enjoyed. We went to see her too but I don't remember that occasion. Unfortunately we have now lost touch with this part of my family but hope that somewhere in Australia there is still a Lester descendant.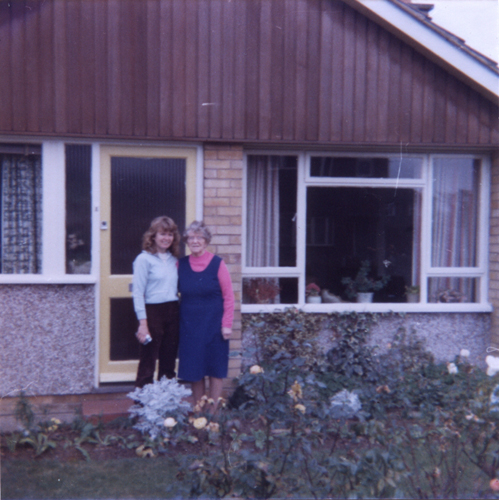 Lowland Avenue c1963
(click to enlarge)
In 1967 my other Grandad was taken into hospital during the summer so Mum and Dad couldn't take my sister and I on holiday. Grandma and Grandpa Bembridge agreed to take us instead. This holiday sticks in my memory partly due to us going in a very old style car that didn't go very fast and partly because Grandma used her culinary skills and prepared us fresh mackerel for dinner which I hated. We went to West Bay and stayed in a holiday flat, Mum and Dad were able pay us a brief visit during the week.
Gertrude with grandchildren at West Bay 1967

(click to enlarge)

Gertrude Bembridge

(click to enlarge)
In 1973 my Grandparent's celebrated 50 years of marriage and had a family party in a nearby hall.

Golden wedding announcement newspaper
(click to enlarge)
I don't recall a lot from that evening but I do remember they had some unusual presents, the first being the memoirs this site is based on. My Auntie put them together, typed and presented them in a gold cover. My Mum did them a golden flower arrangement which was her hobby, I gave them a special rose bush as I loved gardening and my sister sent a tape recording from the radio station she was working at.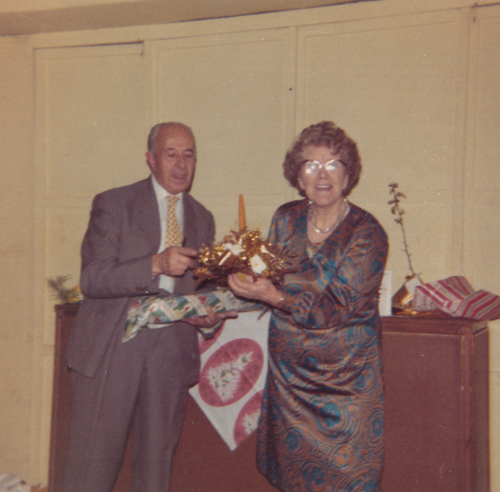 Opening presents at golden wedding 1973
(click to enlarge)
I guess, from the photos, we had some dancing music as that was something Gertrude and Fred enjoyed to do.
Dancing at golden wedding 1973

(click to enlarge)

Bob at golden wedding 1973

(click to enlarge)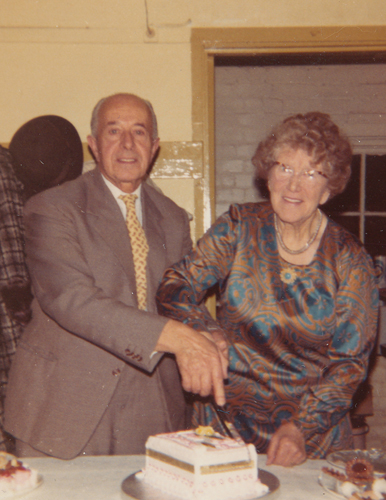 Cutting the cake at golden wedding 1973
(click to enlarge)
In the following years all Gertrude's grandchildren left home and got married but still got together at Lowland Avenue for the traditional Christmas visit where Grandpa would organise games to amuse us, with prizes that I think came from a mail order catalogue. This tradition was passed down to my Dad, who would keep us amused when the party was in Nuneaton.
Another tradition that has carried on in our family is the writing of memoires. Grandma started it, then my Dad, and I have also started doing mine. Your life may seem too normal but I have found it fascinating to read about my Grandma before I knew her.
In 1977 I got married and moved away from Nuneaton so now it was my turn to invite my Grandparent's to my house. I think they only came once when Mum and Dad brought them.
Visit to granddaughter 1977
(click to enlarge)
Through the first half of the 1980's my Grandparent's continued to have reasonable health and continued to live at Lowland Avenue although I didn't see so much of them except at Christmas.
Gertrude at Lowland Ave c1980

(click to enlarge)

Gertrude and Fred Lowland Ave c1980s

(click to enlarge)
But in 1982 we had our first child so Gertrude and Fred became Great Grandparents. We commemorated this with a photo of the four generations of the Bembridge family.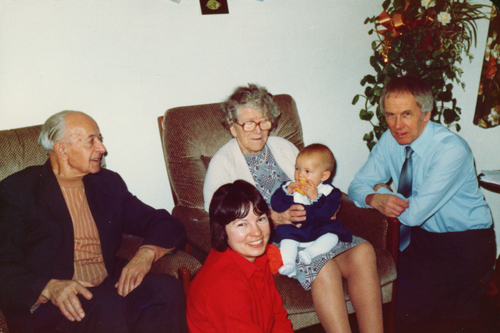 Four generations 1982
(click to enlarge)
In December 1983 Fred and Gertrude celebrated their diamond wedding anniversary, quite an achievement to reach 60 years of marriage. The family got together to have a small celebration at their home, nothing too formal but we did make sure they got a telegram from the Queen.
Diamond Wedding telegram

(click to enlarge)

Diamond wedding anniversary 1983

(click to enlarge)
In 1985 we had our second child so Fred and Gertrude were Great Grandparent's again.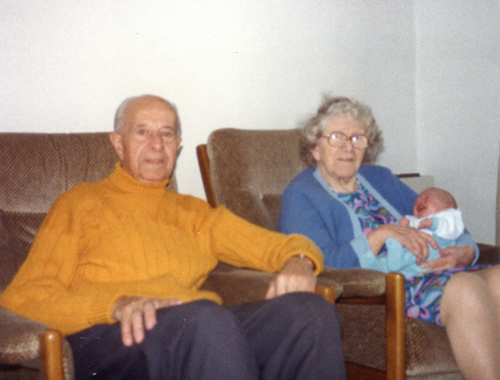 Great Grandparents again 1985
(click to enlarge)
Gertrude was to see 4 Great Grandchildren before she died in March 1987, I guess she liked being a Great Grandma and enjoyed the time she spent with them as she always was a family person.
I hope you found this website of interest, it was certainly very enjoyable putting it together. I'd love to hear from you if you did.