CYRIL'S STORY
I have been contacted by Cyril, who is currently living in Australia, who spent some of his RAF career on the same courses as my father. I asked him to tell me about his time at Cranwell as my father didn't relate much about what it was like.
His photograph shows the type of clothing my father could have worn on that Friday the 13th.
"I have just come across Robert's RAF history, and I am amazed to find it matching my own, both at Yatesbury and RAF Cranwell, identically. Unfortunately, I did not have the pleasure of meeting up with your Dad during the period of our training, though we must have rubbed shoulders surely at some parade or other.
I was born in Peel Green in Lancashire and was an apprentice textile designer in Manchester up until my call up in 1943. My origin into the RAF was a visit to RAF Padgate near Warrington in the summer of 1943 for aircrew selection which happened to be as wireless operator/air gunner.
On call up in September of that year, I had to report to Lord's cricket ground which was being used to kit out the aircrews, and I expect that your Dad was also kitted out there.
After being kitted out in London, we were posted to Bridlington in Yorkshire where we got "hardened off" with square bashing and freezing dips in the notoriously cold winter North Sea!!
We then were posted again, to Usworth in County Durham, for another spell of "spit and polish" to finish us off before the long train journey down to RAF Yatesbury. This photo was taken after our passing out parade, and I bet your Dad had one taken too.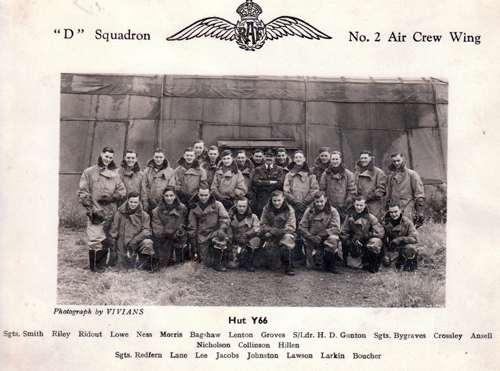 Hut Y66
(click to enlarge)
Like your Dad, after the long course at Yatesbury, there was a hold up in replacement aircrews, and when volunteers were asked for, to go on a WOM/AG conversion course at Cranwell, we both must have made the same decision. Compared with Cranwell, RAF Yatesbury was a piece of cake.
It was a very large camp, and apart from the social world of the members of our respective huts, you didn't get to know very many people at all. My "world" was very much about Hut Y66 in 2 Wing!!!
We had plenty of entertainment on the camp, a NAAFI, camp theatre and even a tennis court that my mate Alan Lea and I used to knock a few bald tennis balls around.
We did get out of camp a couple of times to find out what the rest of the world was up to, but that was only as far as Devizes, and we had to hitch rides there, and that was by hanging on inside the back of speeding Yankee trucks that passed the camp.
Yes, I too did my guard duty "defending" the huge water tanks on the hillside throughout cold winter's night with my rifle and a clip of 303 bullets in my pocket. I could possibly have got shot for this, but, my mate and I were up there in the middle of a very dark and windy night. He was patrolling the far side of the supply perimeter, and I was lazily leaning against the fence, half dozing (shame) with my rifle at the side of me when the snap of a broken twig on the pathway in the dark sprang me in to action!!! I grabbed the rifle in panic, pointed it at the intruder who happened to be the duty officer, and yelled at the top of my voice "Halt! Who goes there?"... I don't know who was frightened most...but the funny thing was....I had the rifle pointing the wrong way!!! Good job it was pitch black that night!!
Cranwell was a real challenge to me, the course was very technical, going much deeper into radio theories involving a better knowledge in mathematics than my simple Central School in a working class area had provided, but it was worth the effort and I got a lot of satisfaction in completing the course.
We had been trained with the course at Yatesbury to perform our duties on the Marconi equipment which was TR1154 transmitter, and the R1155 receiver, but now we were to be re-trained in the use of American radio apparatus and being sent to the Bahamas for duties with the Catalina flying boats in air sea rescue in the Pacific during the war with Japan.
War ceased after completing the WOM course, and consequently I took training in RAF accounts to be posted out to RAF Benghazi with MEF in 1946. That directed me on the final path back to "civvy street" albeit via the Middle East!!
I still get on to a Morse practise web page and try to keep up to speed... a medium that I have never needed since leaving the RAF and becoming of all things, the owner of a fruit, veg and flower business from 1947 until 1980 when we started our adventure in Australia.
Life surely has many twists and turns!!"
Return to top