AIRCREW TRAINING: RAF WALNEY (RAF BARROW)
From Form 543A, Record of Service for R A Bembridge
24.2.45 - 13.4.45. 10 AGS (Air Gunnery School, RAF Barrow)
Extract from From 540 Operations Record Book, No10 Air Gunners' School.
Walney Island: 24.2.45. Weather: Wind S. Westerly 10-15mph becoming 20-25mph, gusty. Visability 4-6 miles.
08.59 Flying commenced. 17.05 Flying ceased. 128 flying details completed.
No.109 Course of cadets passed out of training. 63 cadets successfully completed the Course.
No.113 Course with an intake of 61 cadets commenced training.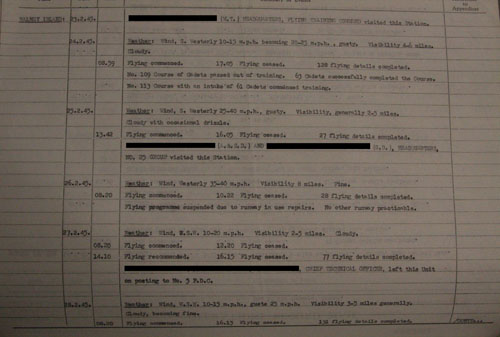 Form 540 Operations Record Book, No10 Air Gunners' School
(click to enlarge)
Consequently I was posted to RAF Walney. This station was on Walney Island that is connected to Barrow-in-Furness by a road bridge. This is now in Cumbria but was then in Lancashire. The camp was at the north end of the island, and our dormitory hut was just a short walk through sand dunes to a deserted sandy beach! What an ideal spot it was - almost like being on a seaside holiday! Buses ran from just outside the camp gate to Barrow town centre (not more than 2 miles, if that). I was destined to be at RAF Walney for about 18 months, and have fond memories of the town and its people. You could get a bus from Barrow to a village near Lakeside on Windermere, which I took on more than one occasion. Trains ran from Barrow to London Euston, and there were several ways of getting home to Leicester by rail. One route was to go as far as Carnforth just north of Lancaster, catch a local train to Skipton, pick up an express from Carlisle to Leeds and then an express from Leeds to Leicester. This got me to Leicester in the early hours of the morning and I would then walk the two miles or so home. (No buses or taxis then, and no family car to come and meet me). Another route was to change at Crewe and catch a stopping train that took me through the Potteries to Derby, where I then caught a Leicester train. My third route was to travel by London train as far as Nuneaton or Rugby, and then to change and catch a local to Leicester. I can remember once carrying my kitbag from Nuneaton (Trent Valley) to Nuneaton (Abbey Street) to make this connection. Little did I know then that I was later to spend 25 years living in Nuneaton!
It was while stationed at Walney that I first saw the film 'Brief Encounter', with Celia Johnson and Trevor Howard. It was this film that introduced me to Rachmaninoff's Second Piano Concerto and I remember walking back to camp from Barrow full of emotion produced by the story and the music. I recognised Carnforth station as the location for outside shots in the film. The train destination boards gave it away.
Our flying at RAF Walney was done on Wellington bombers that by then had ceased to be used for operational purposes over Germany. We used to go up for one hour flights, five trainees like myself, an instructor and a pilot. The latter would have been on operations, and was now resting before going back for a second 'tour'. The exercise we trainees had to carry out consisted of getting into the rear, or perhaps front, gun turret and firing either live ammunition at a windsock towed by another aircraft, or a camera gun at a Spitfire making mock attacks on us. The film in this latter case was later developed to see how close your shooting had been. I always felt very much alone in the turret, especially in the front one where you could not see the rest of the aircraft.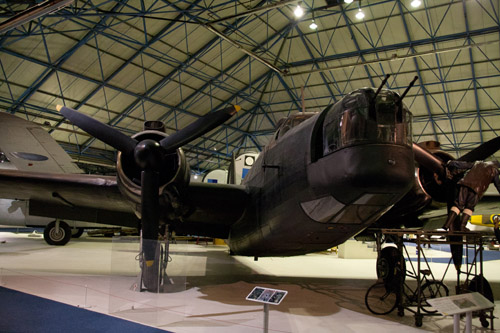 Wellington
(Taken at RAF Hendon Museum)
(click to enlarge)
Wireless Operator's Position
(Taken at RAF Hendon Museum)

(click to enlarge)

Cockpit
(Taken at RAF Hendon Museum)

(click to enlarge)
We flew over Morecambe Bay from Walney Island to Fleetwood and back, so that any live bullets would fall in the sea. When a trainee had carried out his stint in the turret, there was nothing more for him to do except sit in the place allocated. We were not connected to the 'intercom' either so we knew little of what was happening elsewhere in the aircraft.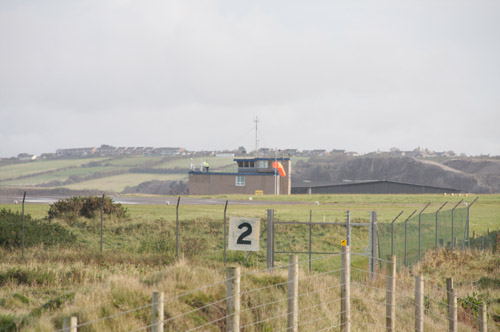 RAF Barrow Airfield circa 2009
(click to enlarge)
Return to top