RECOVERY
From Form 543A, Record of Service for R A Bembridge
13.4.45 - 7.5.45. RAF Hospital Weeton
Ted Bedell, who was from Hovingham in Yorkshire, and I were soon transferred to the RAF hospital at Weeton. This was situated on the Fylde Peninsula between Blackpool and Preston. We were both put in the same orthopaedic ward. Ted had a fractured arm and femur, and a damaged eye. I, for some unknown reason, appeared to have nothing wrong with me. I was kept in the ward for three weeks 'under observation'. I only complained of pain in the chest but the Medical Officer who examined me could find no serious hurt. Perhaps in the impact I bumped my chest on some part of the aircraft.
One of my first concerns on arriving at the ward was how to let my family know of the accident, and the fellow in the next bed said he would write to them for me. I should have realised that they would be informed officially. They received a telegram that told them I was on the 'seriously-ill' list. They were to go to the local police station to get a travel warrant which would enable them to visit me.
Telegram Page 1

(click to enlarge)

Telegram page 2

(click to enlarge)
Click Here for Robert's mother's memories of receiving the telegram
Robert's wife remembers her visit to the RAF Weeton hospital.
'Robert's Mum and Dad received a telegram on the 13th April about the crash and were very worried because it said he was on the seriously ill list. They passed the word straight the way to me and we decided, along with his sister Marjorie, to go and see him that weekend. We got a travel warrant for 2 people and went by train to Blackpool. We then travelled by bus to RAF Weeton hospital, I remember the bus was full of RAF men and they whistled at Marjorie.'

'When we got to the hospital the receptionist told his Mam "He's alright". We found Robert in bed in a big ward and were relieved to see his injuries were no where near as bad as we feared. I sat by him and held his hand while his Mam and Dad sat at the side of the bed, his Mam looked visibly relieved. '

'He had bruises on his head and chest and had a strange yellowish tinge to his skin but other than that he was okay.'

'We returned to Blackpool on a crowded bus, 'strap hanging' and being thrown about so much we nearly landed on some RAF knees! We stayed overnight in a guesthouse and went to see Robert again on the Sunday before retuning home to Leicester. This was the only time we went to see him before he was allowed home for the weekend.'
Ted Bedell and I continued in the same ward among all orthopaedic cases. I remember one patient asked me to give him a shave, in order to save the nurses a job. It was the first time I had shaved someone else.
Poor old Ted Bedell had his eye operated on by a U.S. Army surgeon, but to no avail, and he eventually had to lose it. He was also put in traction to help in the repair of his femur. I still continued to visit him after I went back to Walney and I learned years later that he was to be three years at Weeton and was eventually given a 100% discharge from the RAF. His injuries dogged him for the rest of his life, but he did marry and have a family. He was more of a wanting-to-be aircrew type than I ever was, yet fate decided that I should continue training but he couldn't.
After three weeks at Weeton, during which time I remember wearing 'hospital blue' clothes when allowed out to walk in the green lanes or the Fylde, I was sent home on a week's sick leave. The day I travelled was VE Day, when we celebrated victory in Europe, Germany and Italy having surrendered to the Allies. I had to catch a train from Preston to Manchester, cross the city centre on foot, and then catch a train to Leicester.
Robert kept this buffet leaflet with his memoirs.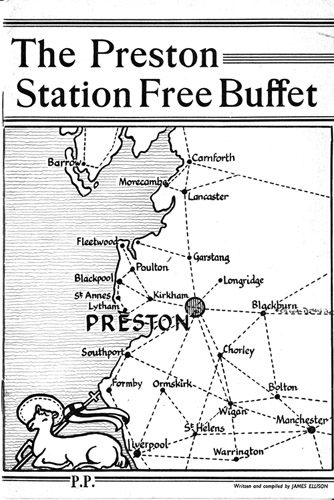 Preston Station Free Buffet Cover
(click to enlarge)
Preston Station Free Buffet Introduction

(click to enlarge)

Preston Station Free Buffet

(click to enlarge)
Because it was VE Day, the railways ran a Sunday service, i.e. stopping trains all the way. I arrived at Manchester at the station with the longest platform. It stretched as far as the next station! The train to Leicester took a route that no longer exists, stopping at places like Miller's Dale. I think it would have passed by Didsbury [where Robert's eldest daughter now lives].
When I got home there was a street party going on in Edgehill Road. My girlfriend and I danced in the streets with the others, but I was wearing borrowed boots. My neighbour in the ward lent me his as I lost my flying boots in the sea.
Return to top