RETURN TO DUTY
From Form 543A, Record of Service for R A Bembridge
3.10.45 - 8.1.46. 10 AGS (Air Gunnery School, RAF Barrow)
9.1.46 - 20.8.46. HQ 25 Group 10 AGS (RAF Barrow)
On returning to RAF Walney I joined a new group of trainees and continued the air-gunnery course. This, of course, included flying again and I remember once picking up my parachute to carry it on board, but I chose the shiny handle of the ripcord with the result that the parachute pack started to undo. I had to fly that exercise without a serviceable parachute and was I glad when we landed safely again! The WAAF who I returned it to forgave me for my mistake, although I was told by my colleagues I would have to pay a fine.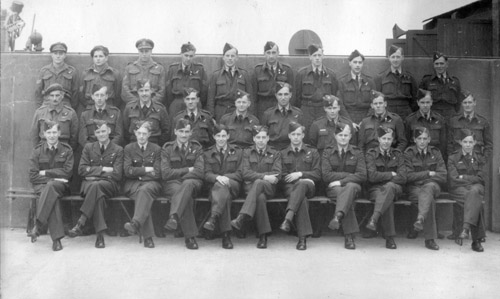 Barrow In Furness June 1945 117 Course
(click to enlarge)
Robert's log book showing a record of his flight training.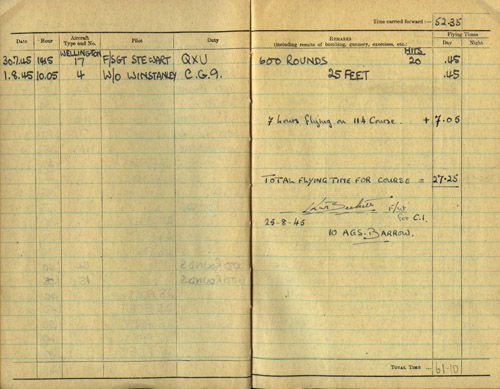 Log Book, 114 Course
(click to enlarge)
Log Book Inside Cover

(click to enlarge)

Log Book AB Initio Course 10 AGS

(click to enlarge)

Log Book 10 AGS Results

(click to enlarge)
Log Book AGS 1945

(click to enlarge)

Log Units Served

(click to enlarge)
As the war against Hitler was over, the demand for aircrew began to fall with the result that we were put on a refresher course to keep us occupied. We didn't need a refresher course so soon after the original course, so we felt it quite a bore. We were eager to join up with other crew trades at the next stage of training and to start flying as a team.
At the conclusion of the refresher course we were placed on other jobs around the camp. I remember being on the camp gate and having to raise and lower the barrier for the Barrow-in-Furness bus (North Scale route) to turn round at its terminus, which was just outside the camp gate. We were again filling in time as there were no vacancies at the next stage camps and I decided to take the initiative and went to see the camp Education Officer. This was to see if he could give me a job for the time being which was more in keeping with my qualifications. When I told him (Flight Lieutenant Rees) that I had my Intermediate B.Sc., he decided there and then that he could use me as a teacher on his courses and so my time as a trainee aircrew member of the RAF came to an end.
Advisers Report
(click to enlarge)
Return to top