DEMOBILISATION
People in the forces were now being released from compulsory military service, mostly on a 'first-in, first-out' basis. There were also grounds on which people could be released earlier than on the normal basis, and one of these grounds was to enable you to complete your education. There were also special grants to ex-service men and women to cover fees and maintenance at college and university. I decided I must try for this, but first of all you needed to get a place on a suitable course. While still at Walney, I went for interview at Blackburn for a place on a 'crash' course for intending teachers. There were many of these run in different parts of the country to train teachers quickly after the war. At the Blackburn interview I was advised that the 'crash' course was not for me, but that I should try to get a place at university to obtain a degree and a post-graduate certificate in education. Being in the RAF Education Branch, I got to know about various residential courses going. One of these I went on was at St.Andrew's University in Scotland. The course lasted for a week and was about 'Civics'. This was my first trip to Scotland and was almost like a holiday. (My Education Officer, Flight Lieutenant Sinclair, persuaded me to go!). A more important course was held in London and was for intending teachers. We had lectures in the morning and visits to schools of various types in the afternoons. One of the ladies who served us with tea at break time was the wife of Physics Professor, P.M.S.Blackett. I told her my story and she spoke to her husband about me. On one of the afternoons, I did not go on the planned visit but toured London colleges enquiring about the possibility of a place on a Physics degree course! What a contrast to how you apply to university these days! Suffice it to say that I was not offered a place at London.
I visited my old headmaster, Mr R.W. Crammer, who was still head at City Boys School, Leicester, at this time, and he told me that Birmingham University had a good name for Physics. Consequently, I wrote to Birmingham but received a reply turning me down. Instead of accepting this as final, however, I wrote back again saying that, as I would be an ex-serviceman and universities were obliged to take a percentage of ex-servicemen as students, I would have thought Birmingham could offer me a place! (What a cheek - I can hardly believe I did it now!).Nevertheless, it must have done the trick, because I received a reply offering me a place on a Physics Degree course.
Equipped with this offer from Birmingham, I was now able to apply for so-called Class B release from the RAF, and I was successful. Ted Toeman, having got a place at Cambridge to read Economics, was also given a Class B release. We both were sent, to RAF Tern Hill in Shropshire for a few days, where all the paperwork was completed, and then ordered to go to RAF Uxbridge, near London, where there was a Demobilisation Centre. We needed to stay overnight in the London area before reporting to Uxbridge, and Ted invited me to spend the night at the Toeman household in St.John's Wood. Next morning we both reported to RAF Uxbridge and went through the demobilisation procedure. This meant that we were released from full-time service in the RAF and placed on a reserve for recall should the need arise. Our last step there was to pass through a large clothing hall where we were allowed to pick up a set of civilian clothes from hat to shoes. I remember I came away with a pair of size 10 shoes, smaller sizes not feeling comfortable enough, I suppose!
Thus, on the 21st.August 1946, Flight-Sergeant R A Bembridge became Mr. R. A Bembridge and returned to civilian life (This was not strictly true as I then, technically, went on a month's paid leave). I had a gratuity to look forward to, which, however was some time before it came. I had been in the RAF nearly three years (since 13th. September 1943).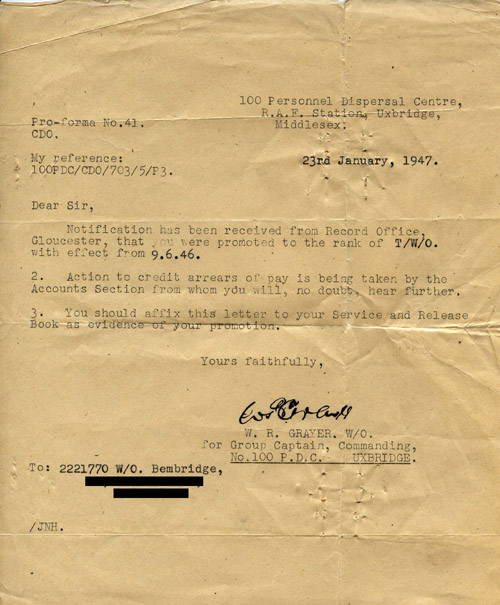 Promotion Letter
(click to enlarge)
In 1947 Robert received a letter from RAF Uxbridge stating that he was owed back pay as he had, in fact, been promoted to Warrant Officer in June 1946 but by the time he wrote his memoirs he had forgotten this.
Service & Release Book Assessment Page

(click to enlarge)

Service & Release Book Cover

(click to enlarge)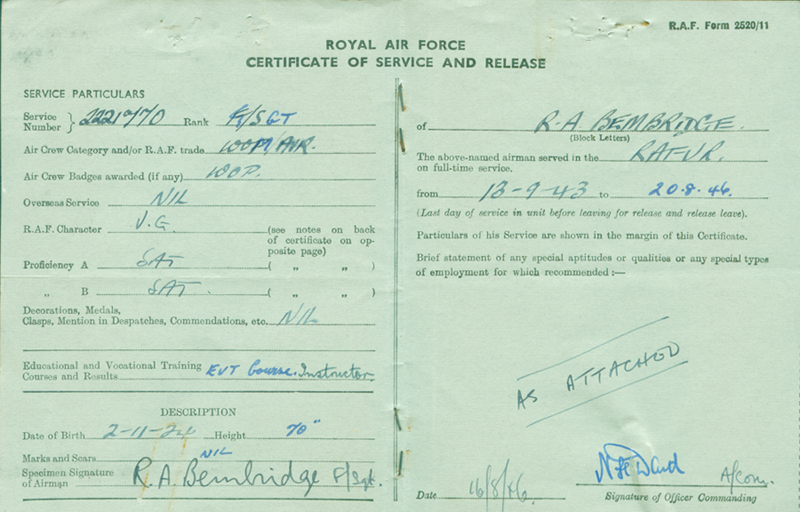 Service & Release Book Certificate Of Service
(click to enlarge)
Return to top