TEACHING
I was transferred to the permanent staff of the camp and began teaching Science and Maths to other airmen and airwomen who wanted to improve their qualifications prior to being released back to 'Civvy Street'. They were allowed time off during the day to attend such classes, and there were two types of courses with national exams; one type was 'O level' equivalent, the other being somewhat lower.
I now had joined a small team of teachers (who were made up to Sergeant if not already at that rank or above) under the Education Officer. Among others I made friends with Gordon Rowe who came from Padstow in Cornwall, and Ted Toeman from St.John's Wood in London. We had a little group of hut classrooms well away from the other activities of the camp, and it was a happy life. I still received my Flight Sergeant's pay!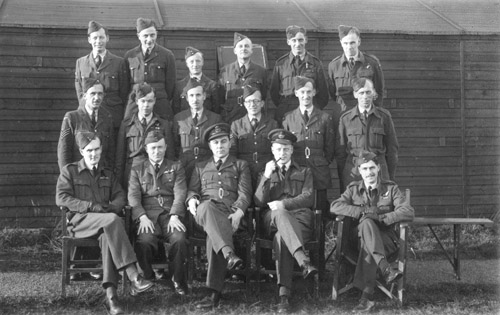 EVT Section Barrow In Furness January 1946
(click to enlarge)
The reverse of this photograph has these signatures on it:

E.Toeman
J. L. Lurriff
P. B. Camberlaine
Gordon R. Rowe
A. J. Tuello
J. G. Banner
P. Hindley
K. R. Lambert
C. Riddell
S. H. Christian

EVT Section Barrow In Furness April 1946

(click to enlarge)
Because I was now on the permanent staff and a Senior N.C.O., I had to be found a billet on the permanent staff site. At first I was given a room at the end of a hut that was the dormitory for lower rank ground staff. It was my job to see they kept the hut clean and tidy, and to make sure they got up at 6.30am when reveille was sounded over the tannoy. I'm afraid I was no good at this and I was soon transferred to a fresh billet where I shared a room with Harry Whitaker from Accrington, Harry was a ground staff Warrant Officer and we became good friends. We used to have long discussions after 'lights-out' mainly on politics. He was very pro-Labour, as I was at the time, and his great hero was Hugh Dalton who later became Chancellor of the Exchequer when Labour swept into power for the first time under Clem Atlee at the post-war General Election. Because so many people were away from home at this election there were thousands of postal votes that took time to get back to the U.K. Consequently the results were not known until some weeks (I think) after the election took place. I can remember being in the Sergeant's Mess at Walney on the lunchtime when results came through on the radio. What a cheer went up when it was realised that Labour had got in on a landslide! We really were expecting a brave new world in those days. We were quite happy to accept an all-free Health Service under Aneurin Bevan and other such reforms. After all, that's what we'd fought for!
As the war was now over, it was decided to close down the RAF station on Walney so everyone there had to be posted elsewhere. Ted Toeman and I were sent to the Education Section of RAF Shawbury, and my address became Shawbury, Shrewsbury, Shropshire! RAF Shawbury was a permanent camp and had the title of The Empire Air Navigation School. It was, and perhaps still is, a few miles north of Shrewsbury. I travelled by train to and from Leicester, via Birmingham. Trains from Shrewsbury ran into Snow Hill Station, Birmingham, so I had to walk across the centre of the city to New Street Station to catch the Leicester train. I continued to teach Science and Maths as at Walney and Ted Toeman taught Economics. It was here that I had to show an ex-aircrew Education Officer how to shake a rug, when we had a clean up of the office! Also during this time regulations were relaxed for service personnel off-duty and we were allowed to wear civilian clothes at those times.
Return to top